Sarah will greet you when you arrive for your appointment. If this is your first appointment, she'll ask you fill out a form with your name, address and contact information. This is important for us to be able to reach you for reminders, and if your pet is ever hospitalized.
If you have a big dog, she'll ask you to weigh your pet on our walk-on scale.
A technician will help you take your pet back to an exam room. She will ask you questions about your pet's health, food, and environment, and weigh the small pets.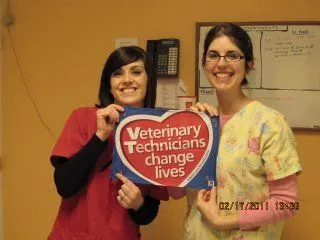 One of the doctors will come in and examine your pet and talk with you about any concerns you have.

If your pet is sick, we may suggest bloodwork or an x-ray

If you have concerns about the cost, please let us know and we can work with you on which tests are the most important, and suggest payment plans like Care Credit.